Back
Quilt Auction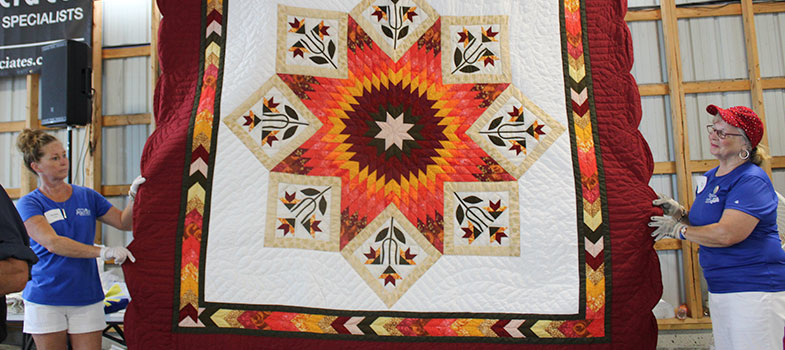 Monday, September 2 – 10:00 a.m.

Featuring beautiful handmade quilts from the Amish community, quilting groups, individuals, businesses and volunteers. Quilts of all sizes, colors, new and gently used as well as quilted items will be featured.
If you would like to donate new or gently used quilts or quilted items contact Devon Fiore at (717) 735-2497 or dfiore@hospicecommunity.org. Quilts may be picked up or delivered to a location near you:
Hospice & Community Care, 685 Good Drive, Lancaster
55-A South Vintage Road, Paradise
270 Cut Road, Gap
Please share this information with others in the community who may be interested in donating.
Sponsored by: 
Our listing of quilts is regularly updated.
| Pattern or Block Name | New/Used | (Width x Length) | Color | Donor |
| --- | --- | --- | --- | --- |
| 2018 Camp Chimaqua Quilt | New | | | |
| Baskets | Used | 30x42 | Pink, White | Ellyn Radson |
| Quatrefoil | Used | 88x106 | Burgandy, Pink, Green | Ellyn Radson |
| Quatrefoil | New | 38x38 | Pink | Faith Church/Faith Quilters |
| Scrappy Squares | New | 39x49 | Multi-Colors | Faith Church/Faith Quilters |
| Scrappy Squares | New | 38x38 | Blue | Faith Church/Faith Quilters |
| Scrappy Squares | New | 39x39 | Blue, White | Faith Church/Faith Quilters |
| Scrappy Squares | New | 35x36 | Pink, Purple, Blue, White | Faith Church/Faith Quilters |
| Scrappy Squares | New | 39x38 | Pink, Yellow, White | Faith Church/Faith Quilters |
| Scrappy Squares | New | 39x38 | Blue, White | Faith Church/Faith Quilters |
| Scrappy Squares | New | 38x38 | Blue, White | Faith Church/Faith Quilters |
| Scrappy Squares | New | 35x35 | Blue, Green, Pink, Purple, White | Faith Church/Faith Quilters |
| Scrappy Squares | New | 38x38 | Blue, Green | Faith Church/Faith Quilters |
| Lone Star | Used | 87x101 | Purple, White | |
| Lone Star | Used | 99x105 | Brown, Yellow | |
| Humming Birds Paradise | New | 98x111 | White, Burgundy, Green, Yellow, Orange | Witmer Quilt Shop |
| Patriotic | New | 54x52.5 | Red, White, Blue, Black yellow | Patriotic Stitchers for Veterans |
| Lavender Swirls | New | 40.5x63 | Purple, Green, White | Nancy Geyer |
| Carpenter's Star | New | 109x116 | Maroon, White | Manheim Auto Auction |
| Scrappy Squares | New | 40x29 | Blue, Pink, Lavender, Teal, Cream | Hospice Volunteers (gown makers) |
| Quilted Mat | New | 36x21 | White, Blue, Yellow | Hospice Volunteers (gown makers) |
| Quilted Mat | New | 41x20 | Black, Teal, Yellow | Hospice Volunteers (gown makers) |
| Quilted Mat | New | 34x23 | White, Blue, Yellow | Hospice Volunteers (gown makers) |
| Quilted Mat | New | 35x19 | Aqua, Pink, White | Hospice Volunteers (gown makers) |
| Quilted Tree Skirt | New | 22 round | Green, Red, White | Jody Witek |
| From The Golden Needles/Woodland Butterfly Quilt | | Queen Size 96" x 108" | | Lititz Church of the Brethren |
| | | Queen Size Quilt | | Manheim Auto Auction |
| | | Lap Quilts | | Otterbein United Methodist Church |
| | | | | Turkey Hill Dairy |
| | | Child Size Bed Quilt | Rose Pattern | Mr. and Mrs. Ray Miller |
| Twister Quilt and a Quilt Stool | | | | Log Cabin Quilt Shop |
| Quilt Basket of Logs | | | | Custom Quilts & Wall Hangings |
| Double Wedding Ring Crib Quilt | | | | Custom Quilts & Wall Hangings |
| Giant Dahlia Wall Hanging | | | | Custom Quilts & Wall Hangings |
| Rocking Pony Wall Hanging | | | | Custom Quilts & Wall Hangings |
| Quilts | | | | Hannah Stoltzfoos Quilts |
| Quilt Racks | | | | Country Loft Antiques |
| Seven Quilted Wall Hangings and a Quilted Centerpiece | | | | Peaceful Valley Amish Furniture |
| Mariner's Compass Quilt | | | | Weavertown Amish Mennonite Church |
| Scrappy Squares | | 61 x 85 | | Ms. Thelma Blank |
| Quilt | Used | | | Jennifer and Douglas Meyers |
| Quilt and Two Pillows | | | | Red Rose Quilters Guild |
| Quilt | | | | Naomi and Arie Stoltzfoos |
| Two Quilted Wall Hangings | | | | Anne T. Stephenson |
| Two Knitted Baby Blankets | | | | Anne T. Stephenson |
| Two Knitted Cardigans | | | | Anne T. Stephenson |
| Knitted Baby Hat & Dress | | | | Anne T. Stephenson |
| Eight Quilts | | | | Lancaster Trophy House |
| Bow Tie Quilt | | | | Almost Amish LLC |
| Quilt Rack | | | | Michael and Lonnie Mazzaro |
| Quilt Tops | | | | Mrs. Rachel Fisher |
| Quilt | | | | Ms. Lorraine Boyer |
| Quilt | | 90x104 | White | Ms. Anna King |
| Quilt | | | | Mrs. Arlene Martin |
| Quilt | | | Purple, Green | Ms. Nancy J. Geyer |
| Quilt "Chromatic Cats" | | | | Ms. Liz M. Lawrence |
| Handmade Nurse Quilt | | | | Gary and Diane Gontero |
| Hanging Quilt Rack | | | | Springville Woodcraft |
| Quilt | | King Size | | Lancaster County Custom Cupolas |
| Quilt & Throw | | Queen Size | | Esh's Handmade Quilts & Crafts |
| Quilt | | | | Ms. Carolyn S. Mack |
| Quilted Wall Hanging | | | | Artisan Mortgage Company, Inc. |
| Quilt | | | | Eli and Annie Smucker |