Back
Quilt Auction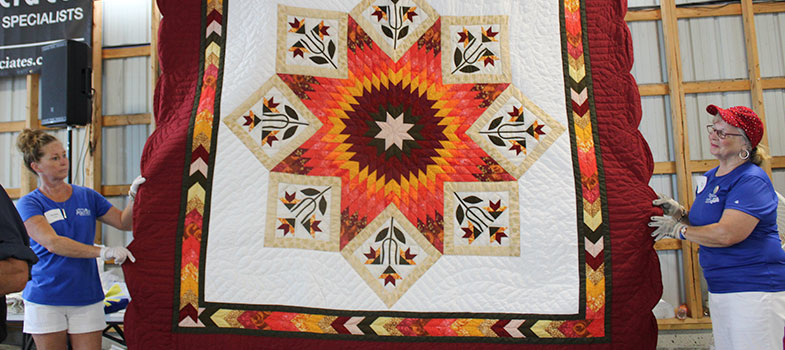 Monday, September 6 at 10:00 a.m.
Featuring beautiful handmade quilts by quilting groups, individuals, businesses and volunteers. Quilts of all sizes, colors, new and gently used as well as quilted items will be featured.
If you would like to donate new quilts or quilted items contact Hospice & Community Care at (717) 295-3900.
Please share this information with others in the community who may be interested in donating.
NEW
Mariner's Star – 102×110 – White, Blue, Yellow Green
"Rainbow Squares" – 63×50 – Lime Green, Multi
"Tea Blocks" – 67×81 – Green, Multi
Twisted Star – 50×15 – Blue, Red, White
Diamond Trip – 100×116 – Blue, White
String Pieced Half Square Triangles – 42×42 – Blue, Purple, Gray
Lone Star Log Cabin – 100×110 – Green, Gray, White
Dresden Star – 36 Round – Purple, White
Leafy Log Cabin – 95×103 – Green, Tan
Lone Star – 42×52 – Blue, Yellow, White
"Hawaiian" – 40×40 – Green, Pink, White
Nine Patch – 63×74 – Purple, Green, Gold
"Stars are the Windows of Heaven" – 46×60 – Red, White, Blue, Yellow
Noah's Ark – 37×57 – White, Multi
London Blues – 104×104 – Blue, White
Bargello – 86×92 – Teal, White, Black
Trip Around the World – 92×108 – Burgundy, Tan, Green
"Amish Scenes" – 20×29 – Blue, Multi
Lone Star – 36×36 – Blue, White, Multi
Lone Star – 93×108 – Orange, Black
Lone Star – 115×115 – Blue, Green, Tan, Maroon, Black
Rocking Horse – 37×49 – Blue, White
Knotted Squares & Stripes – 39×49 – White, Blue, Red
Scrappy Squares – 52×61 – Pink, Brown
GENTLY USED
"Vintage" – 72×70 – Tan, Teal, Black, Purple
Royal Star of Maryland – 100×107 1/2 – Navy, Cream, Burgundy
"Bedtime Prayer" – 33×47 – White, Floral
"Bedtime Prayer" – 35×46 – White, Yellow, Green
"Ring of Roses" – 76×93 – Pink, White, Green
"Ring of Roses" – 94×106 – Green, White, Red, Pink
"Little Children" – 84×92 – Blue, White, Yellow, Multi
Bear's Paw – 42×43 – Brown, Red, Blue
State Flowers – 77×89 – Purple, White
Log Cabin – 59×61 – Multi
Bunnies – 38×55 – White, Blue
Santa Claus – 48×57 – Red, Green, Blue
Heart Grape Vine – 42×44 – White, Green, Burgundy
"Birds & Flowers" – 33×33 – White, Green, Burgundy
"Snowmen" – 45×45 – Red, Blue, Green, White
Log Cabin – 39×39 – White, Blue, Red
Scrappy Triangles – 48×48 – Multi
Flower Bouquet – 102×110 – Maroon, Green, Cream
Grandma's Garden – 71×78 – Green, Multi
Jacob's Coat – 71×78 – Yellow, Multi
"Diamond in the Square" – 36×36 – Purple, Blue, Red, Green, Brown