Back
Items Up for Bid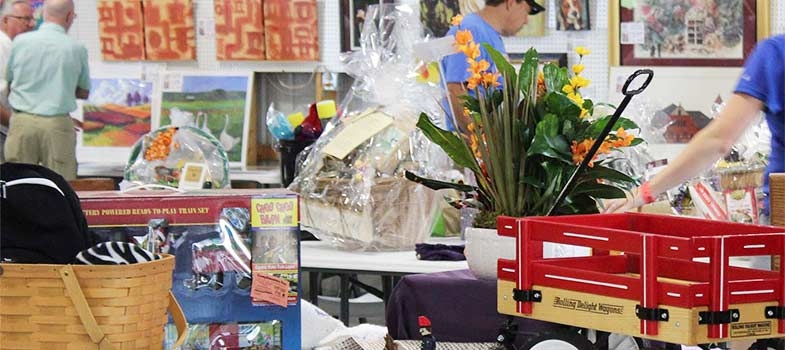 To bid on items in the Main Auction, CLICK HERE.
To bid on items in the Sports Auction, CLICK HERE.
The Virtual Auction is your one-stop-shop for finding treasures to enhance your home or workspace, and add to your collections. From original artwork by local favorites Suk Shuglie, Dale Zeigler, Freiman Stoltzfus and more to festive gift baskets; from custom-built sheds to used cars and exquisite jewelry there is something for everyone. New items will be added throughout the online Auction so make sure to visit LaborDayAuction.org often.
High-End Items:
One Week Stay at Palm Beach, CA Vacation Home
Ocean City, MD Beachfront Condo
Night on The Town in Mercedes Sprinter
Landscape Consultation & Container Installation
Shopper Chopper Ride & Lunch
One Month Digital Billboard
Ice Cream Party for 100
Ruby & Diamond Earrings
White Gold Diamond Cross donated by Parkhill Jewelry
Green and White Diamond Pendant donated by Parkhill Jewelry
Diamond Hoop Earrings donated by Parkhill Jewelry
Hand-turned Walnut Bowl
Hand-turned Catalpa Wood Bowl
Hand-turned Cherry Wood Bowl
Vintage Christmas Panda Music Box
Sterling Silver Amethyst Pendant with Amethyst & Diamond Earrings
Quilts:
Fish –  New; 71×83; Blue, Multi
Modern –  New; 60×63; Black, Gray, Orange
Peacocks – New; 94×111; White, Burgundy, Multi
Puff Quilt – New; 78×82; White
Scrapaholic – New; 98×110; Navy, Multi
Shoo-fly & Split-Nine Patch –  New; 48×58; Purple, Turquoise, Red, Black
Teddy Bears & Flowers – New; 42×47; White, Pink, Purple
2019 Camp Chimaqua Quilt – New; 56×56; Black, Multi
25-Patch – New; 93×110; Black, Multi
8-Pointed Star – New; 86×99; Red, Blue, Multi
Apple Basket – New; 40×40; Red, White, Green
Heart – New; 43×47; Blue, White, Multi
Log Cabin – New; 64×85; Purple, White
Mariner's Compass – New; 102×114; Burgundy, White, Navy
Peace Quilt – Diamond Squared – New; 90×104; Red, White, Blue
Pinwheel – New; 52×68; Yellow, White
Quillow – New; 42×60; Brown, Cream
Trip Around the World – New; 42×62; Multi
Around the Square III – Used; 43 1/2 x 43 ½; Gray, Pink, White, Green, Blue
Sunshine & Shadow – Used; 33×50; White, Multi
Birds & Flowers – Used; 31×31; Pink, White, Green
Children Playing – Used; 21×25;Blue, White, Pink
Floral Cross Stitch – Used; 86×86; White, Multi
Lonestar Commons – Used; 44×45; Black, Purple, White
Sailor's Compass – Used; 89×101; Green, Blue, White
Scrappy Squares – Used; 62×77; Blue, Multi
Trip Around the World – Used; 90×107; Black, Red, Purple, Green
Artwork:
Day/Night by Freiman Stoltzfus
Parisian Evening by Christiane David
The Chocolate Milk Cow by Dick Weidman
Ear Muffs! By Dick Weidman
The Barlett Family by Pat Billeci
Off the Canyso, Siena by Angelo Gallo
Pat Sweeney, Turf Accountant by James Malady
Daffodils in Blue Vase by Suk Shuglie
Church In The Woods by Dale Ziegler
Labor Day Auction print by Dale Ziegler
Cortona Rooftops by Michele Perdue
Eastern Bluebird by Ellen Wascou
Butterfly by Ellen Wascou
Spring by Ellen Wascou
Male Ruby-Crowned Kinglet by Stephen Leed
Refreshing by Andy Smith
Black & White Sheep by Helena van Emmerik-Finn
Covered Bridge by Tom Hermansader
Ribboned Lilies  by Frances Karins Updike
Bluebells by Julia Swartz
White Orchid by Paris Wyatt Llanso
LIFE 2020 by Marlin Bert
Shenandoah Gray by Peter Keating
Forest of Pine by Carolyn Kilgour
Outdoor/Automotive:
1996 Ford Pick-Up Truck
2003 Ford F150
1994 Chevrolet Lumina
1988 Citation Power Boat
20" x 20" Wood & Copper Cupula
Planter Set (Bronze & Gold)
8' x 12' Shed
$25 Gift Card to Landis Lube & Wash
Gift Certificate for Mulch w/Free Delivery
Kudu Camp Grill
Experiences:
$100 Gift Certificate to Dutch Apple Dinner Theatre
One Night Stay with Breakfast for Two at Osceola Mill Bed & Breakfast
$100 Gift Certificate to Lancaster School of Therapeutic Bodywork
$100 Gift Certificate to Lancaster School of Cosmetology
Wine Tasting for Four at Nissley Vineyards
Breakfast for Two at On Orange
Lionel Train Set with Comp Passes to Choo Choo Barn
Home & Office:
Downtown Abbey Complete Collectors Set
36″ x 21″ Vanity with Cultured Marble Top
Lladro "Ballet Dancing Couple"
Handcarved Wooden Firetruck; Train
Set of Four Wooden Cars/Trucks
Amber Glass Vases
Woven Baskets
Sterling Silver Serving Tray and Chafing Dish w/Cover
Nambe Silver & Wood Mikko Tray w/ Matching Coasters
Handcrafted Baskets
Vintage Crocks
Duck Decoys
Decorative Candle Holders
Knitted Items
Crocheted Items
Table Lamps
Handmade Braided Oval Rugs
Sports Memorabilia:
Spud Webb Autographed Basketball
Bob Feller Autographed Baseball w/COA
Mike Schmidt Autographed Baseball w/COA
Ferguson Jenkins Autographed Baseball
Andre Dawson Autographed Baseball
Clete Boyer Autographed Baseball
Jaromir Jagr Autographed 8X10 Photo w/ COA
Cal Ripken Jr. Limited Edition Print w/COA
Bill Willis, Cleveland Browns HOF DE, Autographed Mini Helmet
Mini Helmet autographed by Leroy Kelly
Football autographed by Marcus Mariota w/ COA
Football autographed by John Riggins
Phillies Mike Schmidt Jersey
Chicago Blackhawks Bobby Hull Jersey
Edmonton Oilers Wayne Gretzky Jersey
Detroit Tigers Ty Cobb Jersey
Phillies Pete Rose Jersey
Phillies Steve Carlton Jersey
Photo Autographed by Rod Woodson
Photo Autographed by Franco Harris – The Immaculate Reception
Photo Autographed by Fred Biletnikoff
Photo Autographed by Joe Greene
Framed 16 x 20 Photo Autographed by Yogi Berra with COA
Framed 16×20 Photo Autographed by Jack Lambert with COA
Framed 16×20 Photo Autographed by Terry Bradshaw with COA
Framed 16×20 Photo of Secretariat Autographed by Jockey Ron Turcotte with COA
Baseball Autographed by Pete Rose with COA
Autographed Football by Fred Biletnikoff, Oakland Raiders
Autographed Football by Franco Harris, Pittsburgh Steelers.
Baseball autographed by Bobby Shantz
Baseball autographed by Cam Gallagher
Baseball autographed by Tom Herr
New York Giants mini helmet autographed by Mark Bavaro
Basketball autographed by Herb Magee
Jersey autographed by Robin Roberts w/COA
Bryce Harper Jersey
Mike Schmidt Jersey
1996-97 Skybox E-X2000 #30 Kobe Bryant Rookie Card
1982 World Series Program autographed by Tom Herr
Villanova Basketball Pennant autographed by Kris Jenkins
Baltimore Ravens mini helmet autographed by Jason Brown
Baltimore Ravens football autographed by Jason Brown
Baseball hat autographed by Eddie Matthews
Orlando Magic baseball cap autographed by Vince Carter w/ COA
Bryce Harper Jersey
Philadelphia Eagles Football autographed by Ron Jaworski
Lancaster Country Club Golf and Lunch for 3
Bent Creek Golf for 4
Conestoga Country Club Golf for 4
Khalil Mack Jersey
Ronald Acuna, Jr. Jersey
Babe Ruth Jersey
Michael Jordan Jersey
Joey Bosa Jersey
Patrick Mahomes Jersey
Lamar Jackson Jersey
Dwayne Haskins Jersey
Marquis Brown Jersey
Russell Wilson Jersey
Kobe Bryant Jersey
Luka Doncic Jersey
Philadelphia Eagles Mini-Helmet Autographed by Avonte Maddox
St Louis Cardinals Batting Helmet Autograhed by Stan  "The Man" Musial w/COA
St Louis Cardinals Mini-Helmet Autographed by Roger Wehrli w/COA
Kansas City Chiefs Mini-Helmet Autographed by Willie Shields w/ COA
8×10 Photo Autographed by Don Newcombe w/ COA
8×10 1955 World Series Champions Photo autographed by Clem Labine w/ COA
Framed 20×26 Photo of Ebbets Field Home of the Brooklyn Dodgers autographed by over 30 Players
Baseball Autographed by Bruce Sutter
8×10 Photo Autographed by Bruce Sutter
Baseball Card Autographed by Bruce Sutter
Football Autographed by Jack Ham
Football Autographed by Matt Feiler
Photo Autographed by Kris Jenkins w/ COA
Baseball Autographed by Jim Palmer w/ COA
Baseball Autographed by Dave Winfield w/ COA
Baseball Autographed by Reggie Jackson (Mr. October) w/ COA
Baseball Autographed by Gaylord Perry w/ COA
Baseball Autographed by Ozzie Smith (The Wizard) w/ COA
Baseball Autographed by Frank Thomas w/ COA
Baseball Autographed by Paul Molitor w/ COA
Jersey Autographed by Lenny Moore w/ COA
Jersey Autographed by Howie Long w/ COA
Jersey Autographed by Randy White w/ COA
Jersey Autographed by Elena Delle Donne w/ COA
Jersey Autographed by Jim Craig w/ COA
Denver Broncos Mini Helmet Autographed by Phillip Lindsay
Washington Redskins Mini Helmet Autographed by Dwayne Haskins w/COA
Seattle Seahawks Mini Helmet Autographed by Steve Largent w/ COA
Boxing Glove Autographed by Buster Douglas w/ COA
Photo Autographed by Wally Walker
Autographed Baseball by Don Wert Solanco High School Player
Autographed July 19, 1993 Sports Illustrated Magazine by Solanco High School Don Wert
Baseball Autographed by Pitcher Jim Bunning with COA
Baseball Autographed by Steve Carlton with COA
Framed 11 x 14 Pennant Team Picture of the 1980 Philadelphia Philles
Notre Dame Jersey Autographed by Joe Montana
Christian Pulisic Autographed Blue Chelsea Football Club Soccer Jersey – English Premier League, Size Large
Basketball Autographed by Coach Glenn Robinson
Baseball Autographed  by Manager Earl Weaver with COA
Football Autographed by Micah Parsons with COA
Football Autographed by Penn State Coach James Franklin with COA
Hockey Puck Autographed by Eric Lindros
Replica Championship Ring 1995 Rose Bowl Champions Penn State
Replica Championship Ring 2018 Villanova NCAA Basketball
2017 History of Baseball with Cut Autographed Signature of Nolan Ryan with COA
PSA/DNA Historic Autographs – Philadelphia Phillies Pitcher Steve Carlton; 2013 Historic Autographs of the 70's Decade by Steve Carlton Philadelphia Phillies (COA)
Card Autographed by Penn State Running Back Ki-Jana Carter
Ice Hockey Card Autographed by Philadelphia Flyers Bernie Parent
Baseball Card Autographed by Phillies Pete Rose and Bob Boone
Postcard Autographed by Rollie Fingers
Memorabilia Leaf Trading Card Autographed by Bobby Hull
Framed 11.5 x 14 Photo of Veterans Stadium with the Greatest Moments in Philadelphia Eagles History
Framed 11 x 14 Veterans Stadium with the Greatest Moments in Philadelphia Phillies History
Framed 13 x 19 Sketch of the 2008 World Series Champions – Phillies
14 x 19 Sketch of Citizens Bank Park, Home of the Philadelphia Phillies
Penn State Mini Helmet Autographed by 10 Players
Framed 8 x 10 Autographed Photo of Washington Redskins Quaterback Joe Theisman
Baseball Hat Autographed by Washington Redskins Corner Back Darrell Green
Washington Redskins Golf Ball Autographed by HOF Darrell Green
Baseball Card Autographed by Jeff Bianchi
Baseball Autographed by Travis Jankowski
Sportslegends Baseball Autographed by Phillies First Baseman Ryan Howard
Large Oval Washington Plaque
Nine Hole Round of Golf for 4 at Willow Valley
Media Heights Country Club Golf for 4
Framed 11 x 14 Autographed Picture of Penn State Running Back Miles Sanders with COA
Framed 16 x 20 Autographed Picture of Penn State Running Back Saquon Barkley
Baseball Autographed by Jeff Bianchi
Baseball Autographed by Pitcher Mike Mussina
Michael Jordan Framed Collage
Joe Paterno Framed Photo
Football Autographed by Green Bay Packers Fullback Chuck Mercein
Framed 11.5 x 14.5 Matted Photo Autographed by Cal Ripken Jr. with COA
Irving Fryar Autographed Photo
Gary Cobb, Eagles, Autographed Photo
Vaughn Hebron, Eagles, Autographed Photo
8 x 10 Autographed Photo of Cincinnati Reds Pitcher Johnny Vandermeer with COA
16 x 20 Autographed Photo of Steelers Safety Shamako Thomas
16 x 20 Autographed Photo of Steelers Wide Receiver Martavis Bryant with COA
16 x 20 Autographed Photo of Steelers Running Back Rashard Mendenhall with COA
Football Autographed by Arizona Cardinals Charley Trippi with COA
Baseball Autographed by L.A. Dodgers Shortstop Maury Wills with COA
Lithographic Autographed Print of New York Yankees Player Mickey Mantle
Baseball Autographed by Baltimore Orioles Eddie Murray with COA
Baseball Autographed by the Winning Pitchers of the Brooklyn Dodgers, Who beat the New York Yankees in the 1955 World Series
Framed 16 x 21 1992 Walter Camp of Offensive & Defensive All-American Football Team Photo
Baseball Autographed by Phillies Player Curt Schilling
Baseball Autographed by Matt Stairs Philadelphia Phillies
Baseball Autographed by Texas Rangers Michael Young
Baseball Autographed by Boston Red Sox Fred Lynn
8 x 10 Photo of the Baltimore Colts
Matt Nagy Autographed Football